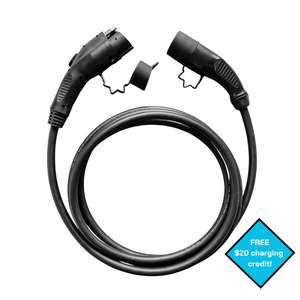 Type 2/Type 1 - Hikotron EV Charging Cable
Hikotron EV Charging Cable - Type 2/Type 1
Don't miss out on the early bird offer of FREE $20 Hikotron charging credit with every cable purchase (while stocks last)!
- Compatible with Hikotron charging network and ALL other Type 2 socket chargers
- PlugPay™ Enabled
- 32A single phase
- 5m length cable 
- Suitable for Mode 3 charging
- Outdoor charging safe
- Durable robust material
- Approved to IEC 62196 and UL 2251 (SAE J1772)
This charging cable enables you to charge any Type 1 vehicle on the Hikotron charging network or any other Type 2 socket as quickly as possible. It is made of premium robust material with high wear resistance. 

We offer a 1 year warranty for peace of mind.